How to set up fax forward on a Brother MFD
Pre-requisites for setting up fax forwarding
You'll need to ensure that you've set up the scan to email server before being able to setup the fax forwarding. If you haven't set up scan to email server click here for details on how to set this up.
To be able to set up fax forwarding, ensure that you have a fax line plugged into the printer.
You'll need to access the device via. the Brother Web-Based Management(WBM), click here to see how to access this.
Setting up fax forwarding
1. Once you've logged in the WBM, go to the tab Fax and select Remote Fax Options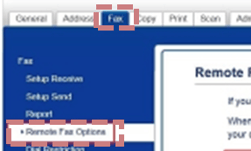 2. In the FWD/Page/Store drop-down, select Fax Forward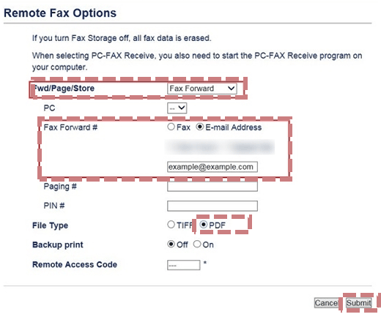 3. For Fax Forward #, select the E-mail Address option and input the email address that you would like to forward to
4. Set the file type to PDF
5. If you'd like a backup print of any fax received, toggle Backup Print to On
6. Click Submit