Welcome to Enabl! We've included here details on finalising your setup and accessing support.
We're very excited to welcome you to Enabl. We're your new managed print service provider who will be supplying your printers and making sure you can print with ease.
We'll be coordinating with your team to install new devices and/or onboard you, and this should be complete by the time you receive your onboarding letter. You may have received email communications from our support team already regarding installation and onboarding.
The Enabl team are here to support you whenever you need us, and we've included some key information below should you need our support.
Place service stickers on your printers
Enclosed in your welcome pack are a number of Service stickers that contain the serial number of your printers (see below). Please affix these stickers to the front of your printers so that you can easily find your serial number whenever you need to log a support ticket.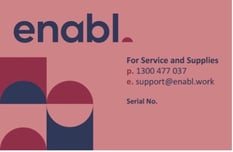 Need help finding your serial number?
If you have multiple printers on site and need to determine which sticker belongs to which printer, this help article will provide you with details on how you can find the serial number on your printer.
Quick reference guide
In the onboarding pack, we've also included a quick reference poster for you to place above your printer. This displays key information and contact details, as well as including QR code links to the manufacturer guides for your devices.
Logging support tickets
Your new devices will be serviced by the Enabl team and any print-related issues can be logged with us via our Support page, email or phone. To ensure we have all the information to quickly respond to your support ticket, using the web form will enable us to process your ticket more rapidly.
| | |
| --- | --- |
| Contact Method | Details |
| Log a Service Ticket | |
| Knowledge Base | |
| Phone | 1300 477 037 |
| Support Email | |
| Finance & Billing Enquiries | |
You'll just need to provide us with the device's serial number when you log a ticket – you can find this on the sticker attached to your printer. When your ticket is logged, you'll receive a ticket number. Please make sure to quote this in any follow-up communications about your service query.
Running low on toner
As a part of our technical setup for your printers, we include toner monitoring software that lets us know when you're running low on toner. When we're notified, we'll ship you out any toner you need before you run out.
If your printer has a low toner warning, but you haven't received an email notification that toner is on the way, please contact our support team at support@enabl.work or 1300 477 037.
We'll check that your toner is on the way and help re-connect your toner monitoring if needed. Please have your serial number handy when you contact us – this can be found on the sticker on your printer.
Confirming your Onboarding Completion
Once you've affixed your service stickers to your printers and hung your support posters, we'd appreciate if you could confirm the completion of your onboarding by filling out our Support Onboarding Form.
To access the form, click here.
Thanks
If you have any questions, feel free to call us at 1300 477 037 or email us at support@enabl.work.