Transform Microsoft Teams into a unified communications solution with Teams Calling as a Service
Leverage your existing Microsoft Teams instance and bring meetings, chat, calling, and contact centres into a single easy-to-use application.
Teams Calling as a Service
If you're reading this, it's pretty likely that you're using (or have used) Microsoft Teams. Besides having to tell our colleagues they're on mute 87 times a day, Teams is a great collaboration tool. But it can get even better when you add Teams Calling.
Why would you continue paying for a PBX system, SIP trunks, and call charges, when you can run your calling out of Teams? With Teams Calling, you can eliminate these costs and time spent managing on-premise hardware, and move all collaboration and communication into one easy-to-use application.
Dial direct from Teams, access your voicemails, look up contacts, integrate with your CRM, and establish call queues, hunt groups and a contact centre IVR. Enabl's Teams Calling as a Service will give you a wholly unified communications solution that gives your end-users the ease of use, reliability and flexibility they need to communicate and collaborate.
Broadworks transforms Teams into a fully-fledged unified communications solution
Enabl's Teams Calling solution blends the ease-of-use of Microsoft Teams with the power of Cisco Broadworks to deliver more power features that aren't included in Teams natively.
While Teams includes all the necessary features for a business looking for a simple calling solution, the combination with Broadworks enables enhanced features:
Call recording
Call centre queues
Auto attendant (IVR)
CRM integration
Redundancy Instant ability to swap
This enhanced Teams Calling offering delivers redundancy in case of an outage, giving you the ability to swap to Webex and continue calling within minutes.



Key features of Teams Calling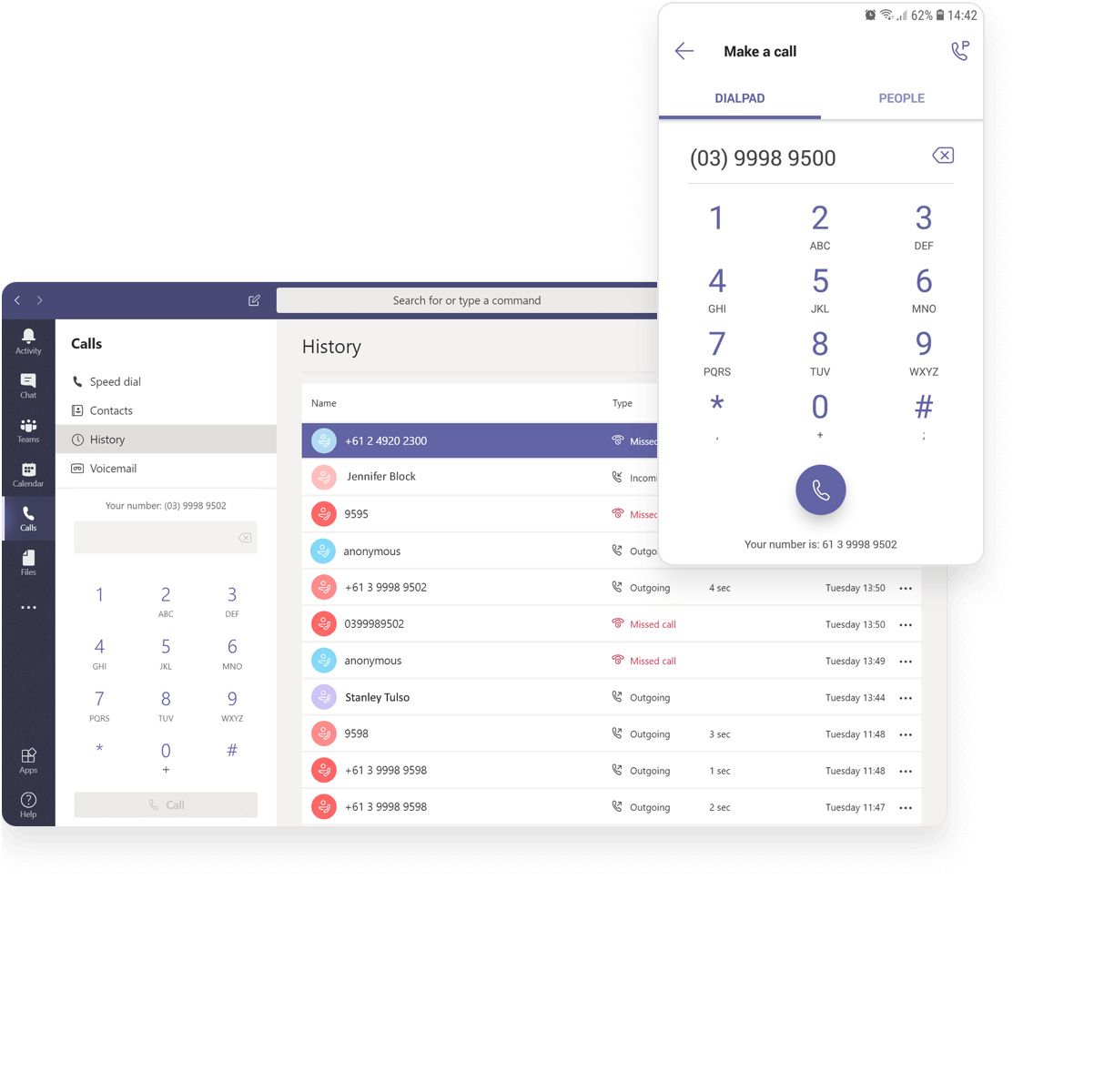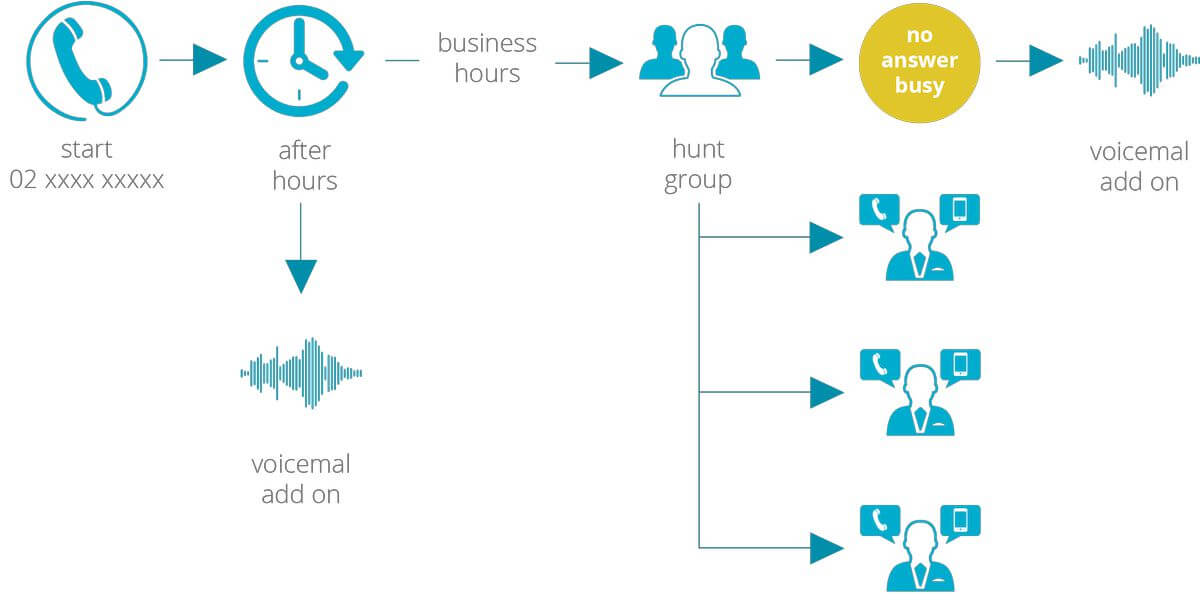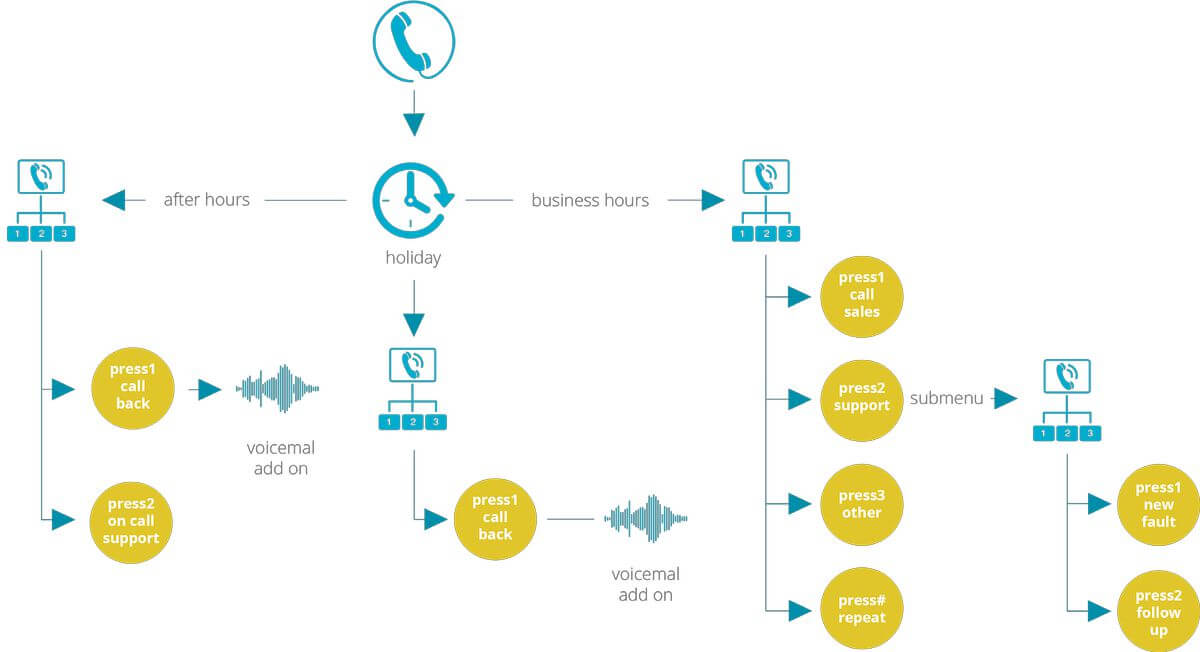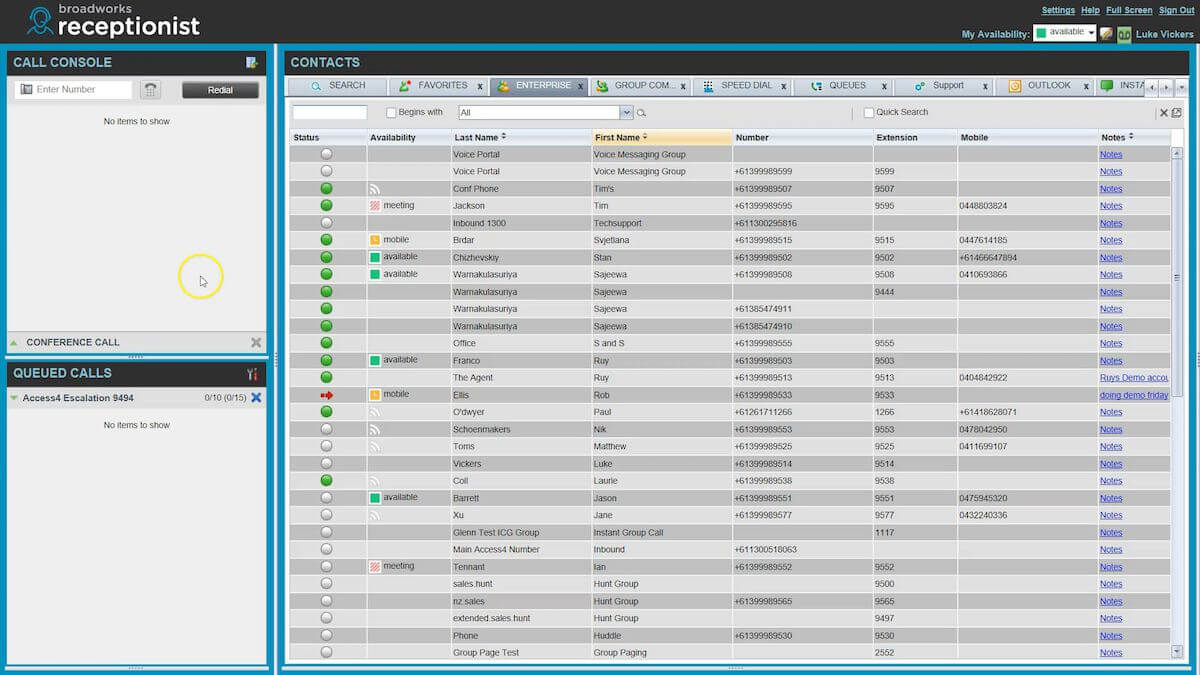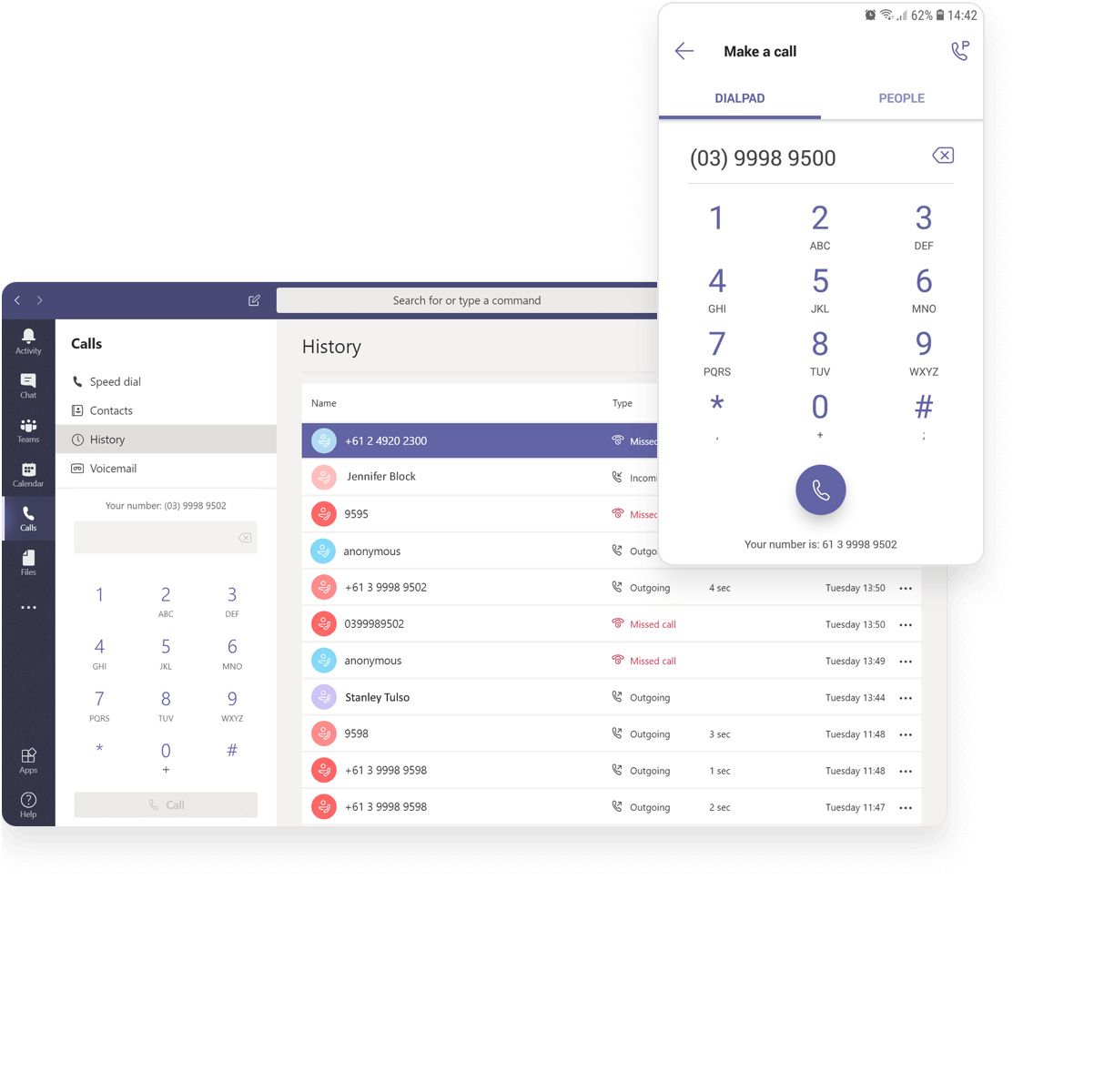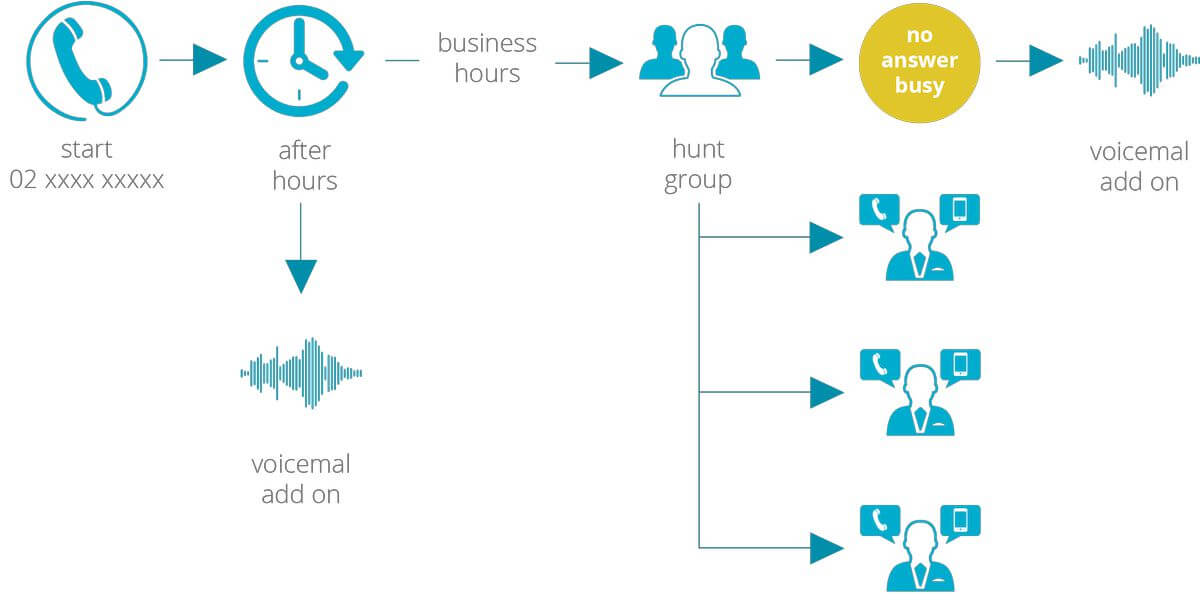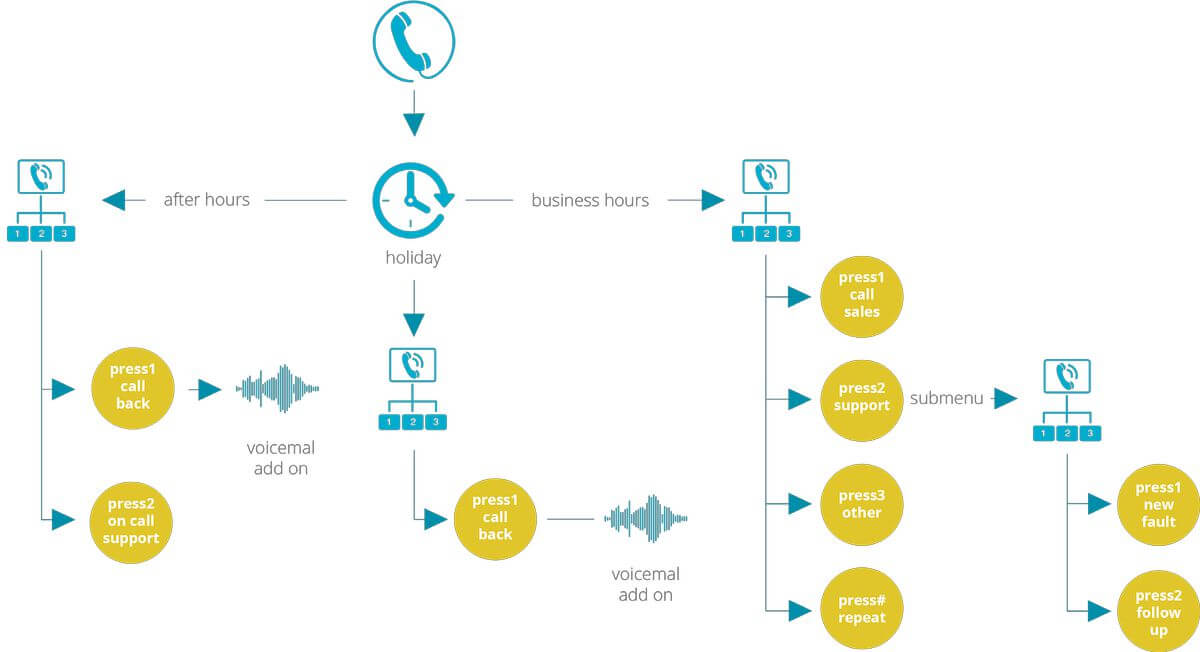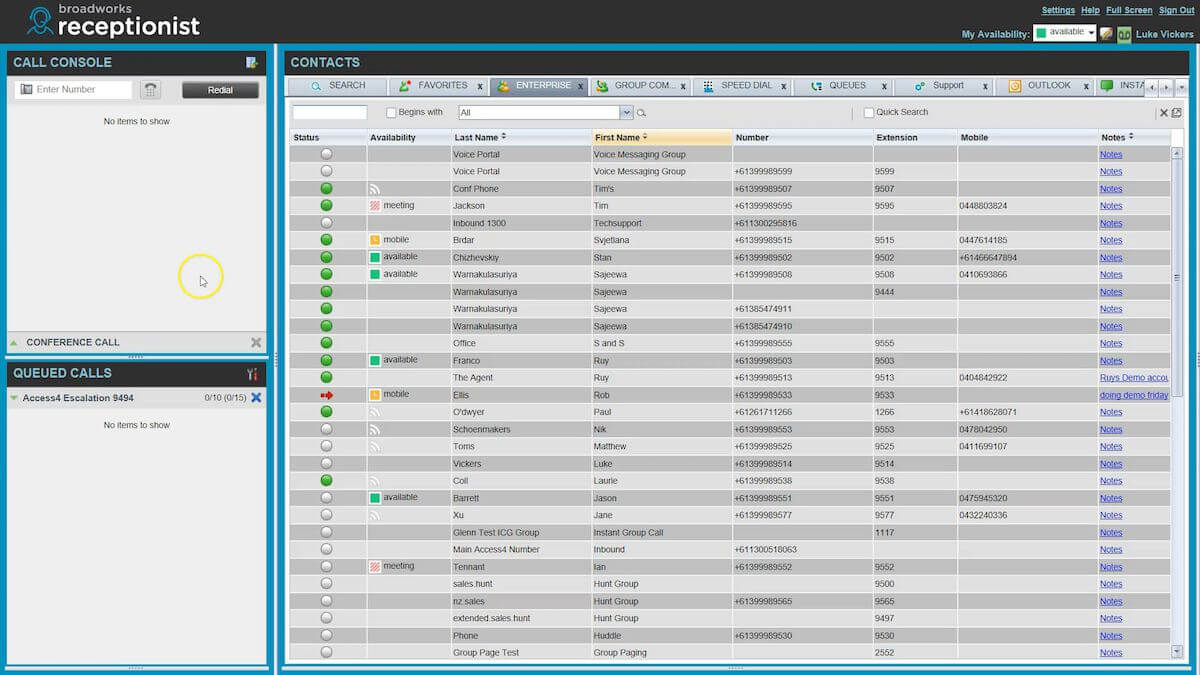 Easy-to-use interface
Call, chat and collaborate out of the familiar and simple Microsoft Teams application.

Call Recording
Record calls for quality assurance and training. Store recordings in an encrypted and compliant cloud database.

Call Queues & Hunt Groups
Set up call queues and hunt groups to manage inbound calls with ease and distribute workload between your team.

Interactive Voice Response (IVR)
Direct customers to the right team. Keep them up-to-date with wait time announcements.

Web Receptionist Console
Enable your reception to see real-time presence of users and direct calls with a single click.
Use your existing hardware
Already own your own handset and desk phone hardware? No problem! Teams Calling can integrate with any hardware phone that is certified with Microsoft Teams.
Leverage your existing hardware to make the transition to Teams calling seamless for your end users. And if you need new hardware, we can include new handsets in your Teams Calling solution for a cost per device.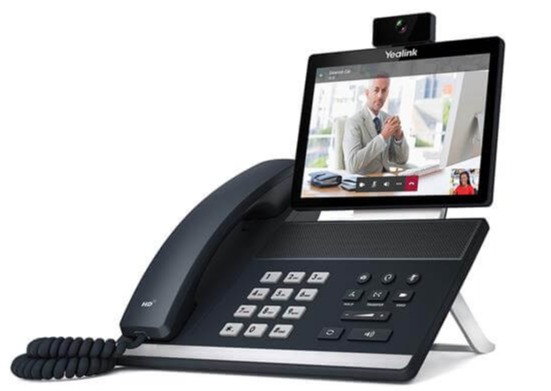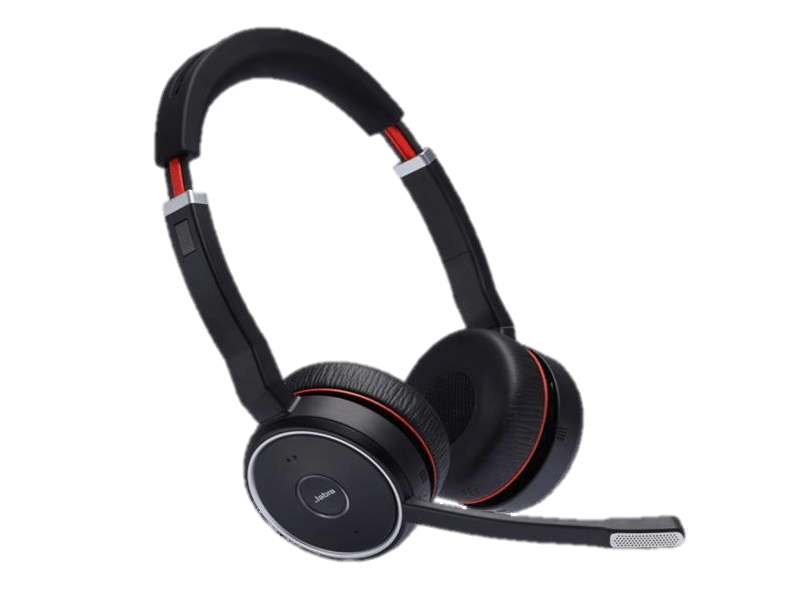 Teams Calling: communicate and collaborate better

Communicate and collaborate from a single app
Calls, meetings, chat. Manage all internal and external communication from Microsoft Teams.

Ditch onsite hardware, move to the cloud
No more expensive onsite hardware for IT to manage. Leverage the cloud and support a hybrid work experience.

Customisable and Scalable
Customise a solution that fits your end-user needs for the lowest cost. Scale up and down as your business changes.

Support & Redundancy
Resolve issues with a dedicated helpdesk and technical team. Access a backup system in case of outage.

Everything you need
Recording, IVR, reporting, CRM integration. Deliver an enhanced customer experience.

Simple monthly subscription
No upfront hardware costs. No minimum term. Transparent billing and a range of pricing models that deliver savings.
Hybrid work is here to stay
In 2020, the way we work changed forever. In 2019, only 8% of Australian employees worked from home. In 2022, only 23% of Australian office workers are back in the office full-time, with the remaining 77% working remotely or on a hybrid work setup.
With the rapid shift to work from home, many businesses rushed to implement new systems for communication and collaboration that would allow staff to continue working. Unfortunately, this rush may have led to deploying systems that fall short in the long term.
With Teams Calling, your calling, chat and meeting solutions can be combined into one application that delivers a greater level of security and user experience for your team. Your IT team will have fewer systems to manage and your end-users will have fewer applications that they need to learn, improving adoption and utilisation.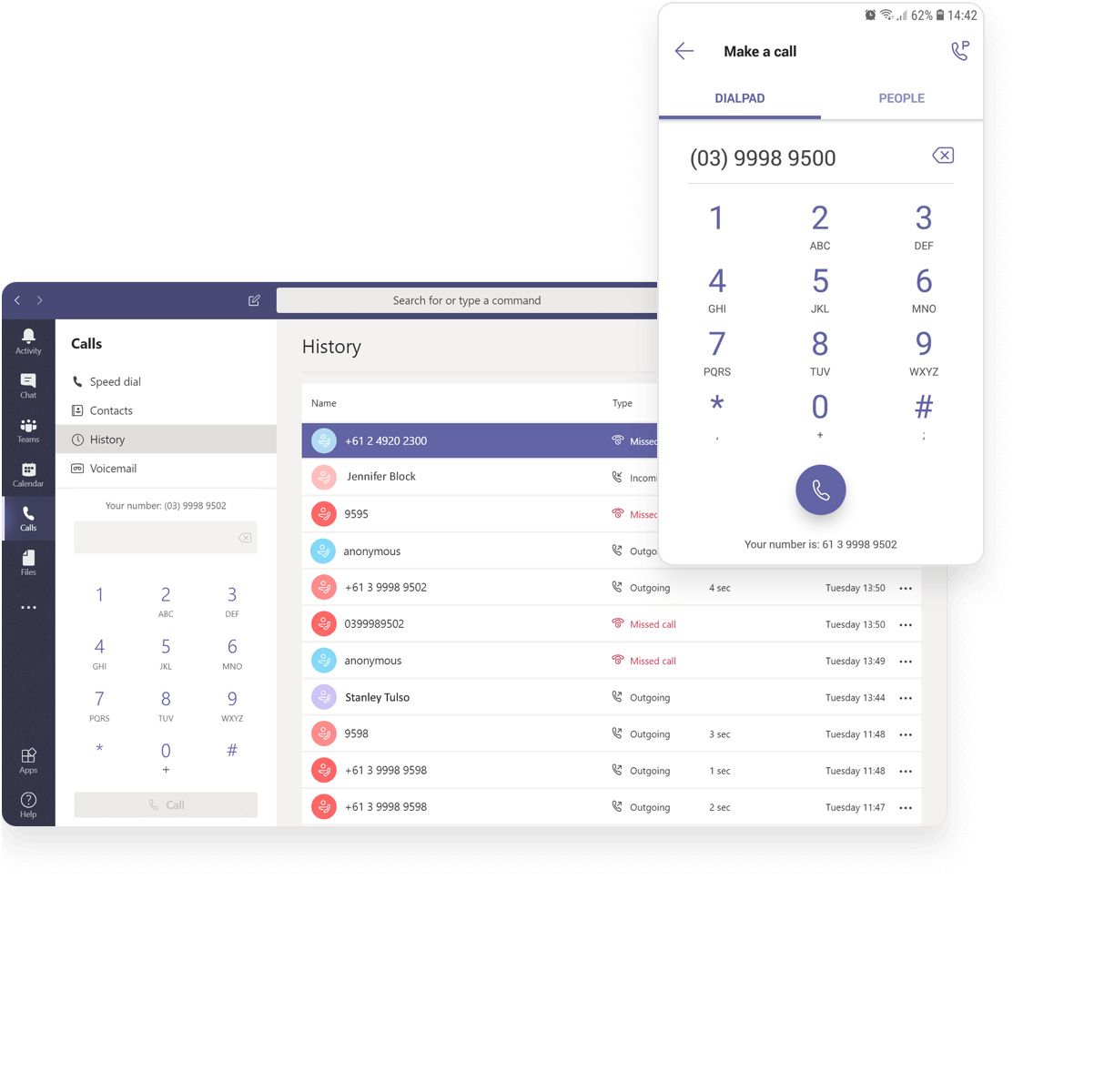 Make communication easy for your end-users
Collaborative work - time spend on email, IM, phone and video calls - now takes up nearly 85% of employees' work week. With so much time spend communicating and collaborating, you don't want your team wasting time learning and switching between multiple applications.
Communicate from a single application
Enable end-users to meet, call and message all from a single application. Microsoft Teams is transformed into a central hub for communication with customers and colleagues.
Consistent experience from everywhere
Whether your end-users are in the office, at home, or on the road, Teams Calling will deliver a uniform experience wherever they are.
Reduce training demands
The more systems and applications your staff have, the more difficult training and adoption become. With most of your staff very familiar with Teams, you'll have less training to run and your IT team will have fewer support requests to resolve.
Focus on customer experience
With a single place for communication and smart features like CRM integration, your team will spend less time between different applications and more time on giving your customers the best possible experience.
Integrate your CRM with Teams
Without up-to-date customer data, you can't deliver the best possible customer experience. And if your systems don't talk to each other, your employees have to spend their time double entering data and switching back and forth between apps, instead of focussing solely on the customer experience.
With Enabl's Teams Calling as a Service, you have the option to integrate your Teams Calling into your CRM or ERP system.
Know who's calling - identify who is calling you at a glance and direct calls with ease.
Dial out rapidly - search for customers by name or company to speed up outbound calls
Log calls with ease - automatically log call activities against your customer records for up-to-date customer data.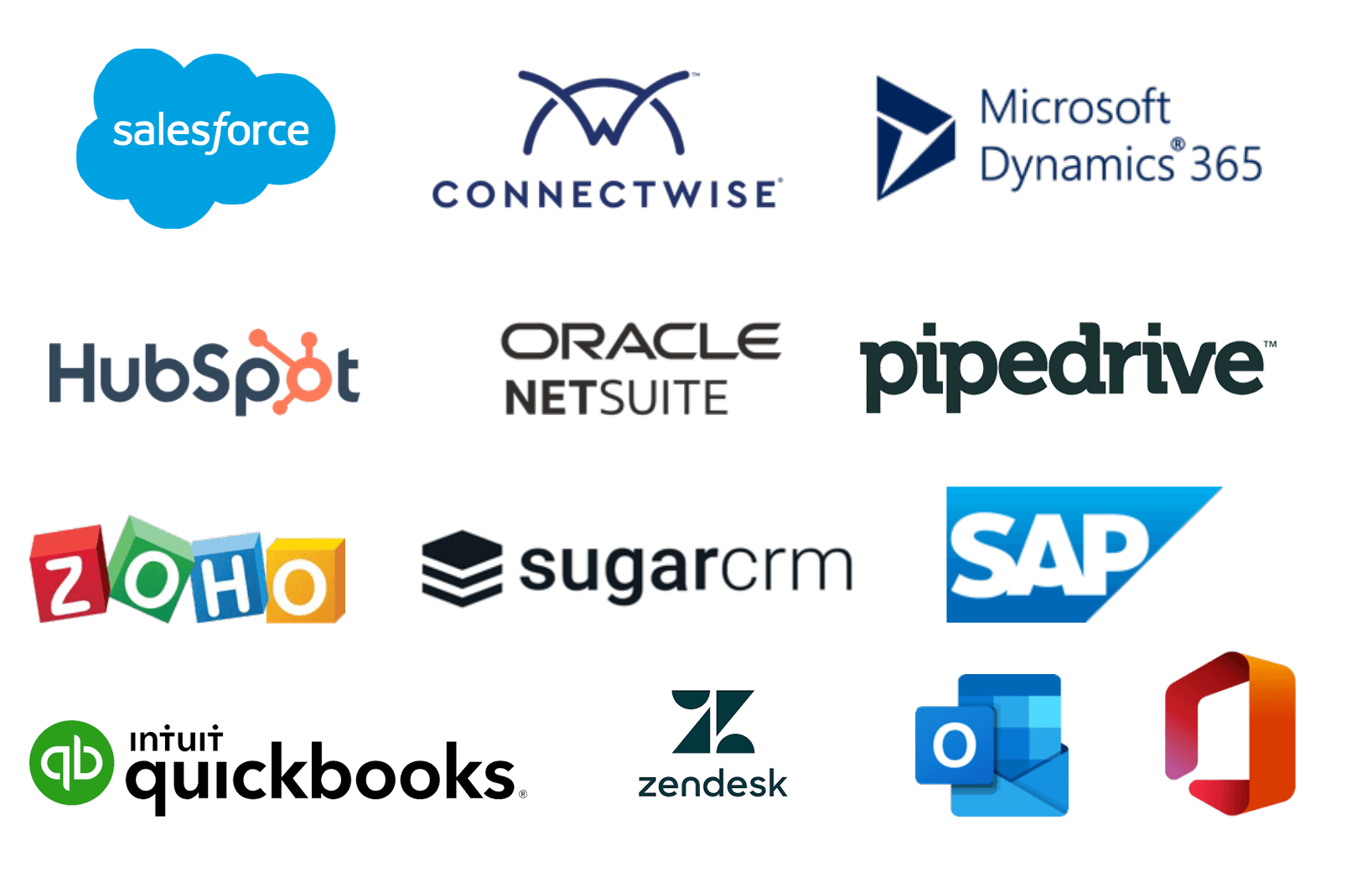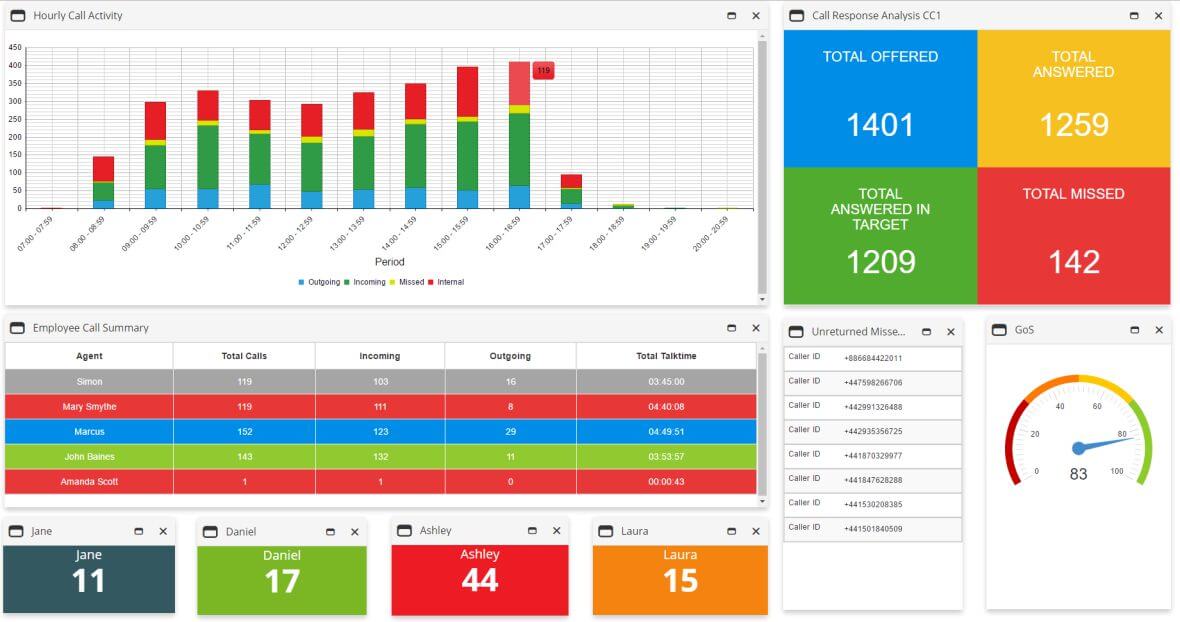 Manage your team, keep customers happy
When you're managing multiple call queues and dozens of agents, the customer experience depends on setting up a call centre solution that lets you handle large volumes of calls with ease.
Direct calls
Get customers from dial to person as quickly as possible with auto-attendant directing customers to call queues based on selection, time of day, and agent availability.
Keep customers on the line
Stop diallers from dropping off due to frustration with wait time notifications, and customisable announcements and on hold messages.
Ensure agent availability
View presence and call statistics in real-time to keep your team performing and your customers happy. Ensure
Measure and improve performance
Review your business performance at a high-level or drill down into agent performance with detailed call analytics. Spot issues before they become widespread and resolve them quickly.
We're here to help
Your phone system is essential to your customer communications. You can't afford to have outages or downtime that will prevent you from communicating. Enabl's Teams calling solution comes with complete service and support so that you can spend less time worrying about your phone system and more time communicating with your customers.
We'll keep you covered with:
Dedicated helpdesk and specialist technicians
Complete management of the porting process
Ongoing updates and feature upgrades
Management of your account through an easy-to-use customer portal
Your team will love Teams Calling
Simple & seamless communication
Strengthen internal and external communication by moving it all into a single app. Call, chat and meet. Manage queues, direct incoming calls, view analytics, and integrate with your CRM.
With Teams' ease of use and reliability, your end-users will spend less time switching applications and learning systems and more time communicating with customers and collaborating with colleagues.
Simplify and scale with the cloud
Access up-to-date features, ensure you have the best possible uptime with 99.9% uptime SLA, and scale your communications solution with a cloud-based phone system.
Your IT team can eliminate any onsite PBX hardware that they currently manage, giving them back their time to focus on strategic growth projects.
Only pay for what you need
Don't get locked into lengthy, overpriced contacts with ISPs. Leverage your existing Teams instance to layer in a customised Teams Calling solution.
Setup users with licenses that meet their needs, pick a PAYG, included or bundled option that provides the best value, and add or remove users as your business grows or contracts.
Working with Enabl to move to Teams Calling
Moving to a Teams Calling solution is simple. Our specialist team will guide you through the entire process, and take care of any porting and DID hosting requirements.
1. Assess
We'll take an in-depth look at your end users and their communication requirements. We'll determine what licenses are needed, and any features or integrations that you'd like.
2. Design
We'll map out your incoming call flows, including auto-attendant, queues and hunt groups. Then we'll build a solution that suits you, picking licenses offering the best value.
3. Configure
We'll port your existing numbers to Enabl, setup any new DIDs, and configure your Teams calling solution so that it is ready to use.
4. Call
Time to go live! With a rollout plan in place, we'll switch over from your existing system to Teams Calling seamlessly to maintain your uptime.
Transform your Teams
Interested in bringing calling, chat and meetings into a single app with Teams Calling? Let's talk.